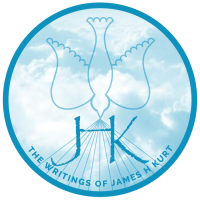 1. Songs for Children of Light
A. Ten Albums of Music
B. Ten Albums of Dance
C. Ten Albums of Drama
(Accompanying Ten Albums of Lyrics, published work)
Magnum opus. All parts correlated. Dance for video; Drama for stage.
A spiritual process – moves from birth of The Innocent Heart to death of Bearing
the Birth Pangs. 1983-1990. 540 pp. total.
* 2. WORDSPEAK (in Three Parts)
119 poems allowing the soul of the poet and prophet to speak in the moment.
(Written without revision – as are all of the following.)
Some abstract drawings included. 119 pp. 1993.
* 3. On Saturday Morning
Short fiction. The imagination and inspiration of a Christian child, and his call as a writer. 27 pp. 1993.
4. Kneeling in Silence
Long work of prose. Prophetic writing in the Spirit on the words found in silence,at the still point of the turning world. 196 pp. 1994.
**5. Only Son
Prose writing. Jesus is the only Son of God; none other is as He, and His time is at hand. 37 pp. 1995.
**6. New Life! (A Letter to the Body)
Letter, in the spirit of St. Paul's epistles, to the Church on Earth, considering the glory of being together with the Lord one day in Heaven. 16 pp. 1995.
7. Still Greater Progress
An autobiography. The purity of the child is despoiled by the sins of the world, and redeemed by the blood of the Lord. 150 pp. 1995/1996.
8. BLESS YOU!
Children's book (a la Dr. Seuss). A child blesses all before sleep. 23 pp. 1996.
9. Poems, Letters… 1+ pages each. 1996.
On abortion: Cry, America!; Declaration of War; Ghost Town (2002).
On Church: Manna (re Eucharist); Our history needs a mending (to Protestants).
"666" (The Mark of the Beast); Call To Arms (to Christian Artists).
Also, Love and Wisdom in the Computer Age.
10. In Preparation for Departure
Poetry and prose on readiness for the death of this world and Christ's second coming. 98pp. 1996.